| | |
| --- | --- |
| License Type | SaaS |
| Agent Mode | Assess & Protect |
| Main Product Category | Contrast UI |
| Sub Category | Connectivity |
Question
What are the IP addresses or domains for the Contrast SaaS instances?
Answer
Inbound Traffic to the Contrast UI
For traffic that is inbound to the Contrast UI (for example all Contrast agent traffic and end-user's browser traffic):
AWS Regions (Current Configuration)
An AWS Elastic Load Balancer is used, meaning the IP range is dynamic. As such, the Contrast Cloud Engineering team recommend binding to the DNS entry (eg. app.contrastsecurity.com), if that is an option for your firewall. However, if that isn't an option, AWS allows you to filter to the correct range, as described here: AWS IP address ranges
The certification path is as shown below: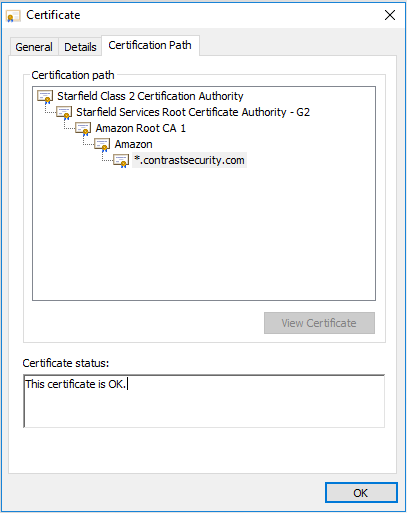 Static IP address list (Future Plan)
The future planned configuration (date to be announced) will result in the following static IPs being shared across all Contrast SaaS instances and environments:
| | |
| --- | --- |
| 151.101.2.246 | 151.101.2.232 |
| 151.101.66.246 | 151.101.66.232 |
| 151.101.130.246 | 151.101.130.232 |
| 151.101.194.246 | 151.101.194.232 |
In addition, the server certificate will be signed by Let's Encrypt with the Root Authority being ISRG: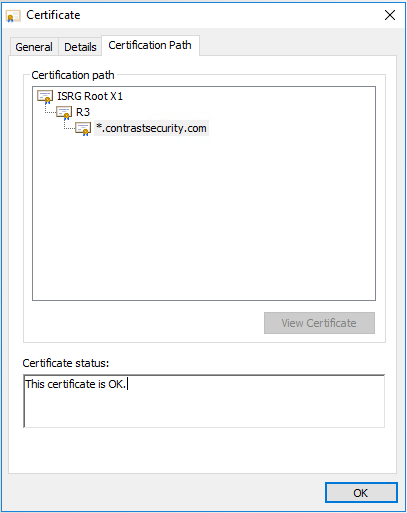 Note: To ensure access to any SaaS instance, please ensure that all IP addresses in the above list are allowed by any firewall or outbound proxy rules and that the certificate chain is trusted by the client environment.
Outbound Traffic from the Contrast UI
To allow traffic from our SaaS instance to an external server (required for bugtracker integrations, for example) we have the following static IPs:
| | |
| --- | --- |
| Contrast SaaS UI | Outbound IPs |
| app.contrastsecurity.com | 3.80.13.242, 3.80.13.243, 52.2.170.83, 35.171.44.62, 34.193.56.160 |
| app.contrastsecurity.jp | 3.115.195.162, 3.112.187.53, 18.182.104.54, 54.250.126.171, 18.176.170.51 |
| cs001.contrastsecurity.com | 44.230.136.103, 44.231.139.59, 44.240.98.195, 52.41.43.242, 50.112.238.243 |
| eval.contrastsecurity.com | 23.20.57.80, 54.234.177.182, 34.227.170.42, 3.212.218.7, 3.221.219.151 |